addiction… 80's Bianchi Volpe…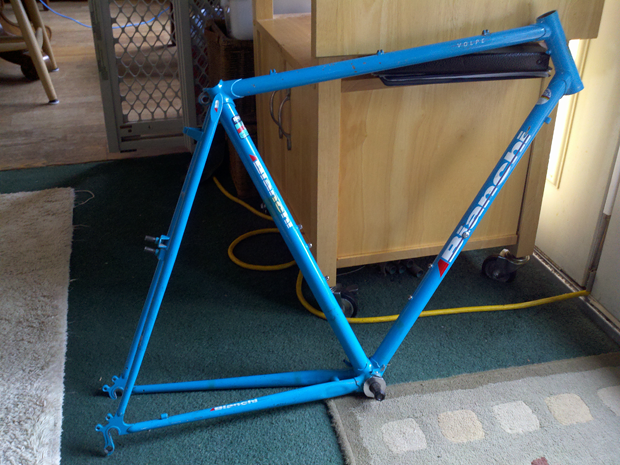 so… yeah… got another bike, haha.
this time it's a lugged late 80's Bianchi Volpe CX/Touring bike that will be turned into my full-out tourer.
as far a kit, this is what i'm thinking…
(components back to front)
SRAM Rival Medium rear derailleur
Shimano 105 Black 5703 Triple front Derailleur
crankset is undetermined yet, preferably a triple
Shimano Dura-Ace Bar End Shifters
Paul Touring Combo Canti's, Neo-Retro up front, Touring in back
Thomson X4 Stem and 26.6 seatpost
Brooks B17 in black
Woodman 1″ black headset
Surly Crosscheck 1″ fork with mid-eyelets
Most likely a Nitto Mustache bar
as far as a wheelset goes, it will be my fairly standard lacing of 36h Half Crowsfoot lacing on the rear drive side with 2x on the none-drive (left), and the can't beat it, 3x up front. this will be accomplished with 14/15/14 guage double butted Sapim spokes, DT Swiss chromed brass nipples, and laced up to 700c Velocity Dyad rims in black. i'm thinking that i will give the Bontrager H2 Hardcase Plus 35mm tires a chance this time around.
as for the frame, it's going to get powdercoated a satin dark grey i believe, should look rather slick.
the convenience of racks will be provided by JANDD with there black Extreme front rack and Expedition rear rack.
well… thats it for now, more updates to come, there's the matter of a small dent and some cable stops thats that need to be taken care of before anything else starts going forward.