chainrings and a new spider for the Spooky Darkside XC…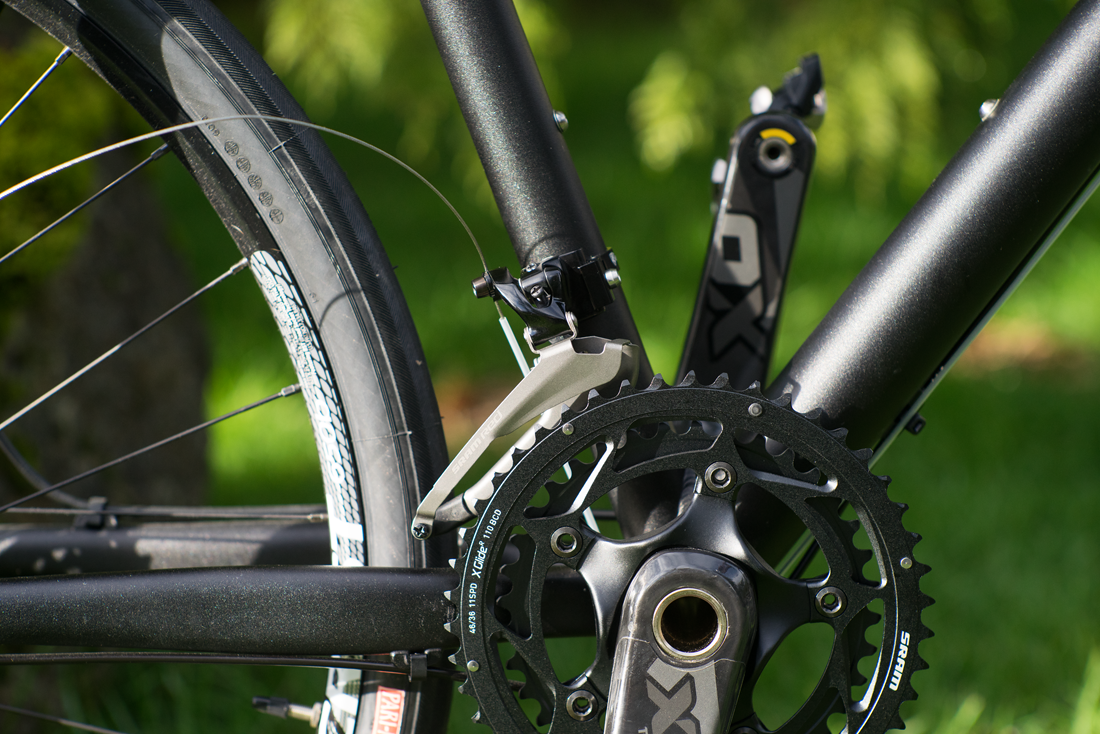 so the funky Spooky build of mine continues, now I've added an S900 10s GXP 110mm spider (part number, 11.6115.547.010) and a set of 2014 Sram X Glide Compact Chainrings 46/36 11s chainrings into the mix.
this took just a bit of work, mostly filing down a small part of the front derailleurs spring (SRAM Red 10s with the Titanium cage). it just took a millimeter or two of shaving for it to be able to swing far enough out to center over the outer ring, darn those dastardly (read awesome) rear stays with their huge clearances!
the front derailleur hanger also wasn't able to tighten enough on the Spooky's seat-tube, so I had to steal/swap with my Klein Quantum Race, and use the K-Edge hanger. no big deal, just a bummer as I really liked the extra bit of carbon on the Spooky, though it really doesn't look too bad on the Klein either 😉
other than that it was a pretty straight swap, the spider went right on w/o any finagling, just unbolt, bolt, and same with the chainrings. only real issue I had was the chain I had purchased (not thinking here) was two links too short, so I found a nice barely used one on ebay was was just two more links longer haha (ultimate laziness!).
also, all the shots were taken with the new Sony A7R and a (equally funky to the Spooky build) USSR made Jupiter-9 85/2.
more pics and a ride report once I get that chain in the mail! next will most likely be pics of the 990 w/ it's racks!
-peter